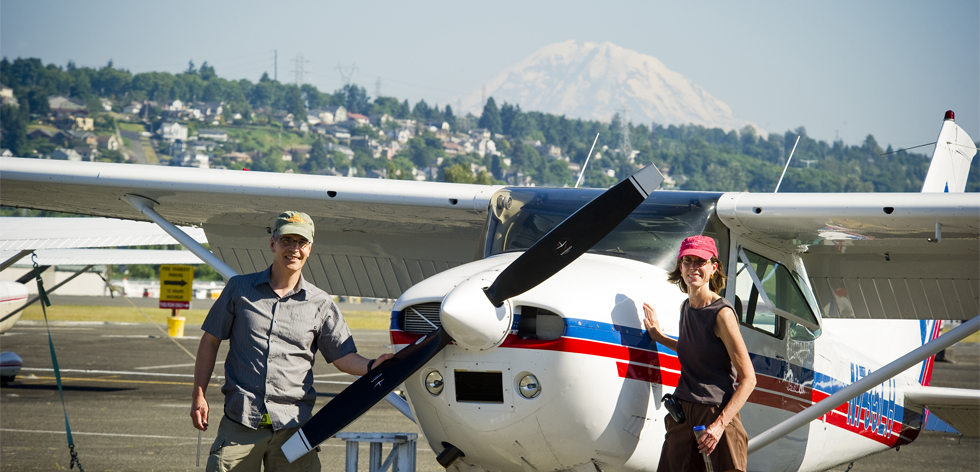 The Boeing Employees Flying Association (BEFA) is a different kind of aviation organization. As a non-profit affiliated with Boeing, our mission is to create a community for our members and to make general aviation affordable and accessible—whether you're just learning to fly, an experienced pilot building time to qualify for an airline job or using general aviation for fun or to travel.
We have a well-maintained fleet of capable airplanes—most of which are equipped with Garmin touchscreen GPSs and ADS-B traffic and weather—available at very competitive hourly rates (billed as tach time rather than Hobbs time). Our aircraft range from trusty Cessna 172s to complex aircraft like a Beech Sierra and our two Cessna 182 RGs. We also have a Cirrus SR20 and a Cessna T210 (complete with deice boots!). We even have a floatplane that members can rent.
To provide training on all these aircraft, BEFA has a cadre of top-notch flight instructors—from test pilots and airline captains to engineers—who are passionate about aviation and teaching. Our instructors are key to helping members stay proficient and our many hours of safe, trouble-free operation.
Facilities
BEFA facilities are located at Renton Municipal Airport, and at Paine Field, Everett. Members have 24 hours a day, 7 days a week access to the facilities for their flying convenience. The Renton office is staffed 6 days a week to assist members in their flying needs, and to carry out the business of BEFA. In addition, a phone/computer based scheduling system is in use, with 24-hour/day access, from any location.
Aircraft
BEFA owns many aircraft, and uses leased equipment as well, to provide a well-equipped, large, and diverse fleet to suit the flying needs of the members. Flight instruction is provided for all ratings through ATP by a well-qualified, experienced group of member instructors who enjoy assisting other members in reaching their goals. BEFA also offers SES (float) training, and solo use of the float plane outside the local area. * A privilege generally no longer available from area FBO's.
Safety
Our members have enjoyed many hours of safe, trouble-free flying at reasonable rates over thepast years. BEFA's goal is to continue providing this service while encouraging safety under the"best insurance protection" for its pilots and passengers
Our Operations Manager talking about BEFA